You can find the right course here!
Choose the course according to your objective.
Students for the long term course require student visa. If the entry in Japan is April, the longest stay is 2 years; if the entry is in October, the longest stay is 1.5 year.Students for the short term course require "Temporary Visitor" visa, which many countries' citizens will be able to obtain easily.
1. Long term course (2 years,1year9months,1year6months,1year3months)
1)Beginner I, II, and Intermediate will be grouped according to Japanese proficiency.
2)We will discuss and determine your academic path at Beginner II.
3)Once your academic path is determined, you will study basic subjects that are required by your schools of choice. Japanese language instruction will be continued; the goal is to pass the level 2 of Japanese Language Proficiency Test.
4)We will increase the number of basic subjects after 6 months.
5)We will guide you so that you will understand/learn the concept in the classroom and memorize/practice at home.
2. Short term course (3months)
Graduate school is where you determine your research theme and challenge the unknown field. Throughout our history, graduate schools have been established universally in every academic field such as art, political science, economy, or science, and greatly contributed to human's advances.
There is a need for new values as the globalization progresses by advanced technologies such as information technology. That is where you will be needed.
Contents of Study at Hana International Academy
Consulting Japanese language study and research theme, guidance on research plan and entrance exams for universities

Important Exams for Graduate Schools
①Subject exams
②Oral exams mainly on research plan (sometimes to check Japanese language proficiency) 

*There are many research subjects.
*Master's program is 2 years, doctor's program is 3 years.
*Classes will be 7-10 hours per week; outside of class time will be used for reading related books, conducting experiments, and writing thesis.

Examples of Research Proposal
①General development plan for Tomon area located across China, North Korea and Russia
②Restructuring Chinese accounting system by introducing cash flow
③Research on practical business based on strategic management total concept
④Economic development and environment conservation - Waste and Recycle -
⑤Discussion on currency unification in East Asia
⑥Research on material with heat absorption and reflection function
Where would you be in this changing world?
Our society is rapidly becoming highly information-based and borderless. We strongly hope that our students will take a leadership in future. We will guide you with your academic path. We believe that studying for universities is part of Japanese language education.
Contents of Study at Hana International Academy
①We will help you master basic to intermediate Japanese as quickly as possible. We will provide frequent tests with self-evaluation system. There will be a lot of homework.
②Upon completing Basic II, science students will study science and math focused on calculation, liberal arts students will study geography and math focused on memorization.
③Upon completing Intermediate level, we will prepare for EJUAIS which is held in June.
④There will be a number of interviews to determine academic paths.
⑤Entrance exams for private universities will start in October. We will help writing the reason of application, practicing presentation, interview, and oral exams.
⑥We will assist you to study subject tests of each university.

Important Exams for Universities
EJUAIS will be held in June and November. Some universities will use JLPT in December.

Types of test vary in each university but all of them conduct application screening.

①Only EJUAIS: mainly local public university
②EJUAIS (JLPT), interview
③EJUAIS (JLPT), university's subject exams (practical tests), interview
④University's subject tests, interview
⑤Some public/private universities, and science/engineering departments may require English.
①Many liberal arts universities require short essays for subject exams.
②Only art and sports department require practical tests.
③Some private and public universities require oral exams.

Passing the Entrance Exams A first step for your dream to come true!
①There are 420 universities accepting non-Japanese in Japan.
②In these universities, there are approximately 280 schools and 1300 departments.
③Some universities will accept application as a school, others will do so as a department.
lease see the example of XX university as below.
| School | Department |
| --- | --- |
| Literature | philosophy, Indian philosophy, Chinese philosophy, English and American literature, etc. |
| Economics | economy, international economy, local economy, social economic system |
| Management | management, marketing, accounting |
| Law | law, corporate law, international law |
| Sociology | society, social literature system, social psychology, social work, information society |
| Engineering | Mechanical engineering, electrical engineering, electronic engineering, communication engineering, applied science, property engineering, environmental construction, architecture, civil engineering, information engineering, etc. |
| Science | Math, physics, chemistry, biology, bio science, astronomy, earth and planetary, etc. |
| Agriculture | Biologic resources, forest, agricultural engineering, agricultural economy, etc. |
| Marine Biology | Marine biology engineering, marine resources, fishery, etc. |
| Medicine | Medicine |
There are approximately 240 specialized schools in Tokyo with 24 different specialized fields. There are many graduates who have learned skills and utilize them at work in their home countries. Many of them are striving to open their own business someday.
Field
1
Computer(System/Information)
13
Accounting/Business
2
Computer(Digital Contents)
14
Hospitality/Travel
3
Electronics
15
fashion
4
Mechanical
16
Civil service/Law/Real estate
5
Civil engineering and architecture
17
Publishing/Advertisement
6
Environment/Bio
18
Broadcasting
7
Medical
19
Movie/Film
8
Cooking/Baking
20
Design/Art
9
Nutrition
21
Languages
10
Beauty business
22
Music/Theater
11
Child Development
23
Sports
12
Social work
24
Animal
Specialized school has many courses for each field. If you obtain a qualification accredited by the government, job hunting will become easier.

Specialized school
Job prospects
Field
Course
Possible qualification
computer
(System・Information)
Multimedia
・PC test
・Information  processing ability test
・Network Specialist
・Game Creator
・Web Designer
・CG Designer
・Sound Creator
Computer Graphics
Game Creator
Computer Movement
Computer Music
Requirements for Vocational Schools
①12 years or more in school
②Japanese proficiency (need to meet one of the below)

①More than one year of studying Japanese in Japan.
②Level 2 or higher in Japanese Language Proficiency Test
③200 points or higher in Examination for Japanese University Admission for International Students
Short course lasts for a month to three months to attain Japanese proficiency you wish.
①Basic conversational practices
②Conversational Japanese for shopping and travel
③Preparation for Japanese Language Proficiency Test
④Preparation for Examination for Japanese University Admission for International Students
①We will practice hard on vocabulary and sentence structure for conversational Japanese. Class will focus
②6 periods per day (1 period: 45 min)
③An extra class will be held on Saturdays using what students learned in that week.
Basic to Intermediate class will be divided according to students' proficiency. After that, the classes will be divided according to their academic path; basic subjects will be taken as electives.

Main subjects
Basic Japanese
Japanese class
(grouping by ability)
Requirements
Beginner
1
Beginner
2
Beginner
3
Beginner
4
JLPT Level
4
JLPT Level
3
JLPT Level
2
JLPT Level
1
etter
/vocabulary
Class divided for academic paths
Graduate School
Japanese class (grouping by ability)
Required for everyone
Goal: Level 2 of Examination for Japanese University Admission for International Students
University
Liberal Arts
Science
Specialized school
Improving Japanese
*JLPT=Japanese Language Proficiency Test
○:Required △:Elective (JLPT: Japanese Language Proficiency Test,
EJUAIS: Examination for Japanese University Admission for International Students)
Main subjects
Elective requirement for academic path
Intermediate and advanced
Current Japanese
Preparatory
Japanese
General subjects
Math
Science
P
General requirements
A
B
C
D
E
F
G
H
I
J
K
L
M
N
O
Class
Graduate School
○
○
○
○
University
Liberal Arts
○
△
○
○
○
○
○
○
○
△
△
Science
○
○
○
○
○
△
○
△
Specialized school
○
○
○
○
○
○
Improving Japanese

○
○
○
○
○
○
○
A:EJUAIS 2, B:EJUAIS 2, C:Advanced 1, D:Civics 1, E:Practical Japanese, F:Reason for application
G:Research plan, H:Examination, I:Geography/History, J:Civics 2, K:Politics/Economics
L:Math for liberal arts major, M:Math for science major, N:Physics/Biology, O:Chemistry
P:English for college exams
Course Structure & Exam Schedules for Admissions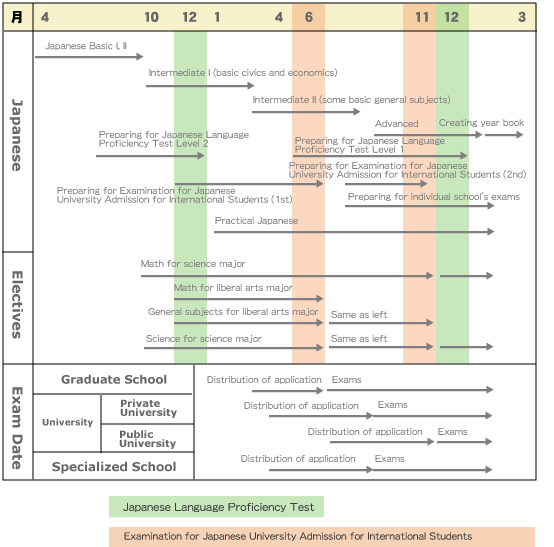 Required Level of Japanese for Your Path
Learning Japanese to achieve your goal
| | |
| --- | --- |
| Improving Japanese | JLPT Level 1 will be your goal if you want to use Japanese in your future career. |
| Graduate school | Literary research departments require JLPT Level 1. Some graduate schools require EJUAIS since 2005. What is important is to be able to write research plan and present it orally. |
| University | Private universities vary in using JLPT and EJUAIS. All national universities require EJUAIS. Some private universities require EJUAIS, others don窶冲. |
| Specialized school | JLPT Level 2 or higher. Some schools begin to require 200 or higher with EJUAIS. |
Examination for Japanese University Admission for International Students
Required subjects
Japanese 120 min.
Written exam
400 letter 10 min. 6 points
Reading
20 questions each,
Total 400 points
listening
reading/listening comprehension
Electives
Liberal Arts
General subject 80 min.
Political science
Total approx. 35 questions
economics
social studies
geography
history
Math 80 min.
Math 1
20 questions
Science
Math 2
20 questions
Science 80 min.
Physics
2 electives each, approx.
20 questions
chemistry
biology
Japanese-Language Proficiency Test
Listening comprehension
listening/reading comprehension
Level 4 to Level 1
letter/vocabulary
reading comprehension/grammar
he differences between EJU and JLPT
①EJUAIS does not include letter/vocabulary or grammar.
②EJUAIS sees whether you can successfully study or have good life skills.
③JLPT tests general Japanese proficiency.